craving salty skin & beachy hair?
Take a trip to Tahiti with Beach Rinse
I just used it in my hair and on my skin and I literally smell like an ocean! you nailed it!

Nikki Nielsen
I love this product!! Smells amazing, feels just like the sand at the beach, natural, and actually puts waves in my hair!

Cassandra Shoaf
One of the main reasons why I love your product is because of the names, it's all the beaches I love! Proud supporter!

Jayme Joreber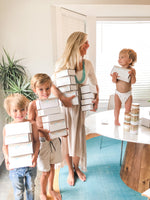 Message from Arica
My name is Arica. I'm a mom of 4, born and raised in San Diego, and am now living at the foot of the mountains in Utah. I made Beach Rinse to recreate that feeling the ocean gives you on your skin, and what it does for hair turned into a total bonus! La Jolla Shores is my personal favorite, I LOVE the kelp based scents the most. They legit take me home. Anything nostalgic is what I'm all about. I'm a massage therapist, and a little bit hippie... where are all my crunchy mamas at?! You're in good company here.

Thanks for being here. I had no idea if people would love what I whipped up, and turns out a lot of you really dig it, and THAT is just the coolest part of this.